news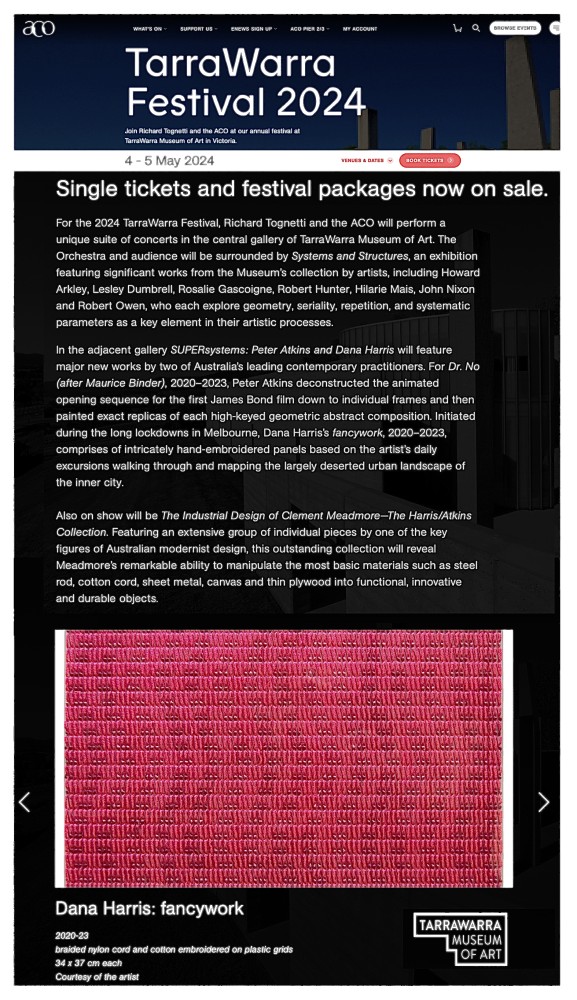 SUPERsystems
TarraWarra Museum of Art, Victoria
30.03.2024 – 14.07.2024
An exhibition of two new commissioned projects from my partner Peter Atkins and I.
---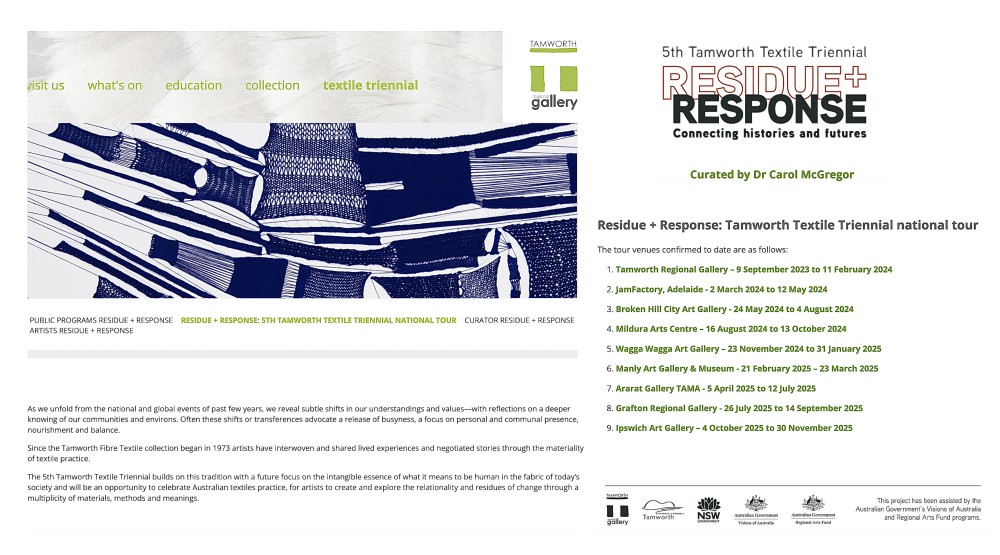 ---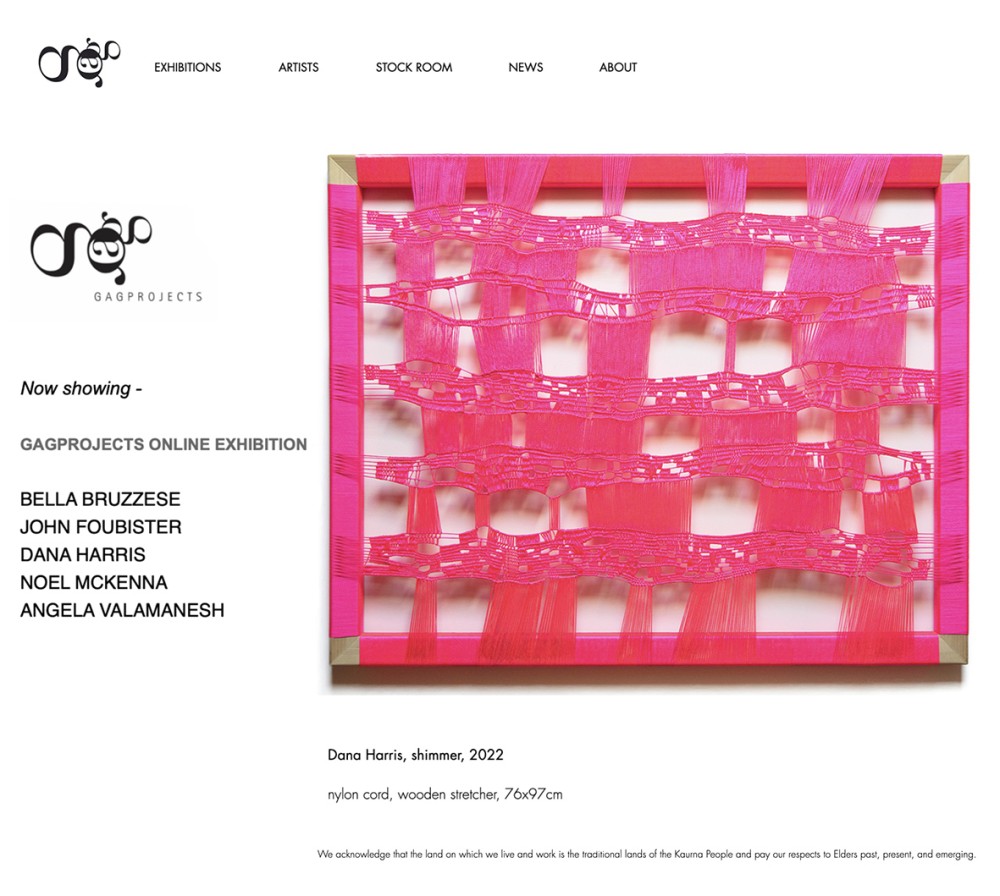 ____________________________________________________________________________________________________
Lake Art Prize
Museum of Art and Culture, Lake Macquarie, Yapang
24.09 - 11.12.2022
Featuring: Aleisa Miksad, Alyson Bell, Anna-Carien Goosen, Ara Dolatian, Belem Lett, Ben Blick-Hodge, Benjamin Matthews/ Katherine Williams, Beric Henderson, Braddon Snape, Bridget Hillebrand, Camie Lyons, Carmel Wellburn,Carol Rowe, Carolyn McKay/ Nick Creecy, Catherine McCorkill, Ching Yee Wong, Chris Byrnes, Christopher Ferris, dana harris, Daniel Leone, Doug Heslop, Evangeline Cachinero, Felicia Aroney, Fran Loudon, Georgia Hill, Gillian Hodes, Irene Manion, Izette Felthun, James Tapscott, Janet Tavener, Jo White, Judith Hill, Kailum Graves, Kristy Cameron, Laura Nolan, Leah Newman, Lilach Mileikowski, Liss Finney, Lucia Mocnay, Mandy Robinson, Margot Broug, Marilyn Ross, Maryanne Wick, Michael Brown, Michael Greve, Michael Schiavello, Monika Viktoria Diak, Nic Mason, Noah Spivak, Osvaldo Budet/ Shonah Trescott, Patricia Casey, Patsy Payne, Paul Maher, Rachael Wellisch, Robert Burgess, Sandy Sanderson, Seth Searle, Shivanjani Lal, Simon Welsh, Simone Fraser, Vipoo Srivilasa, Virginia Keft, Vyvian Wilson, Zoe Veness, Zorica Purlija
---
5th Tamworth Textile Triennale
Opening at Tamworth Regional Gallery 2023 and touring nationally 2023/2025
Curated by Dr Carol McGregor
The 5th Tamworth Textile Triennial builds on the tradition of the Tamworth Fibre Textile exhibitions which first began in 1973, showcasing 50 years of contemporary textile artists. There are few events in Australia that can demonstrate such a strong tradition of promoting and sustaining the unique cultural heritage associated with both the history and technology of textile practice.
Featuring: Amy Hammond NSW, Anne Graham NSW, Blake Griffiths NSW, Casselle Mountford QLD, dana harris VIC, Daphne Banyawarra NT, Fiona Gavino WA, Hannah Quinlivan ACT, Jenny Underwood VIC, Joan Ross NSW, Jumaadi NSW, Kait James VIC, Kate Harding QLD, Kate Just VIC, Kyra Mancktelow NSW, Liz Williamson NSW, Lucy Irvine ACT, Maggie Hensel-Brown NSW, Makeda Duong SA, Mandy Quadrio and Jan Oliver QLD, Norton Fredericks QLD, Paula do Prado NSW, Rachael Wellisch QLD, Sophie Honess NSW, Sybil Orr NSW, Tamara Burlando NT
---
mainframe - d979
Public Art Commission, Sydney
Warren and Mahoney Architects
Winning proposal, sculptural facade of a new data building in Sydney to be unveiled 2023/2024
---
Material Reverie Exhibition
Town Hall Gallery, Hawthorn
20.01 - 09.04.2022
Material Reverie is a major group exhibition that explores the rich variety of materials contemporary Australian artists use in their practice. Natural fibres, minerals, discarded everyday objects and household items are foraged and upcycled to create new forms that depart from their inherent purpose.
Artists throughout history have created tools, mark making techniques and methods of production to capture their impressions of the world. Using traditional weaving, sculpture and carving techniques, alongside more contemporary approaches to design, collage and painting, the source materials are given new meaning and beauty.
Material Reverie celebrates the transformative potential of the relationship between imagination and craftsmanship. This exhibition features artworks from the Town Hall Gallery Collection.
Featuring: Robert Brown, Teelah George, dana harris, Lou Hubbard, Shigemi Iwama, Cassie Leatham, Jahnne Pasco-White, and Louise Saxton.
16.02.2022 12 - 1pm
Exhibition tour and artists talk
Lou Hubbard, Louise Saxton and I talk about our works in the exhibition
---
Nillumbik Prize for Contemporary Art 2021
Montsalvat Gallery
06.05 - 01.07.2021
Finalists: Zanny Begg, Kevin Chin, Blame the Shadows Collective, Madeleine Joy Dawes, Laura Deakin, Linda Detoma, Pauline Dewar, Alice Duncan, Bianca Durrant, Lesley Duxbury, Mark Forbes, Anna Glynn, Felicity Gordon, Amala Groom, dana harris, Linda Judge, Fiona Kemp, Leah King-Smith, Nusra Latif Qureshi, Owen Leong, Carmel Louise, Arrayah Loynd, Nic Mason, Anne Mestitz, Clive Murray-White, James Nguyen, Steven John Pettenon, Brian Robinson, Melinda Schawel, Linda Schneider, Lisa Sewards, Benjamin Jay Shand, Benedict Sibley, Josh Simpson, Kylie Stillman, Darren Tanny Tan, Jan Hendrik (Hans) van Weerd, Lilli Waters, Tricia Woodcock, Daniel Worth, Anne-Marie Zanetti.
---
ARTfair: Modernisters for Barpirdhila
03.08.2020
Auction on Instagram @modernistersforbarpirdhila
Auction has been organised to raise funds for the Barpirdhila Foundation (Barpirdhila)- an Aboriginal-controlled not-for-profit organisation aiming to contribute to the sustainability of excellence of the Aboriginal and Torres Strait Islander community within the creative industries. 100% of sales will be donated.
network, 2020
hand knotted silk thread on wood
10 x 15 cm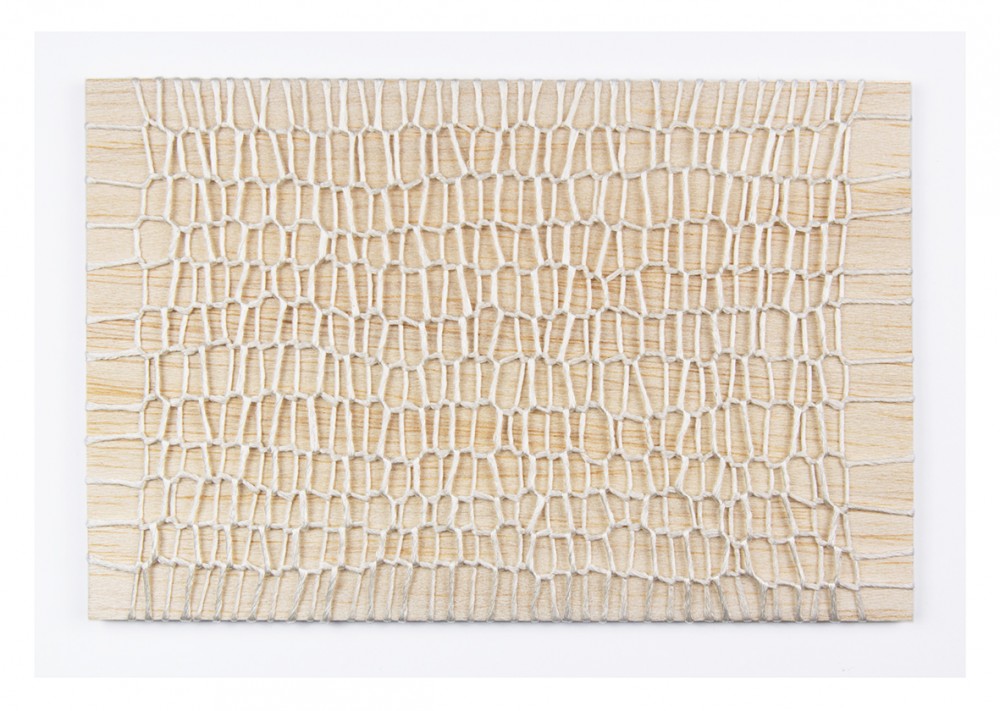 ---
d- 1531
textile wall drawing installation commission
Commissioned by Deloitte, Melbourne
installed June 2020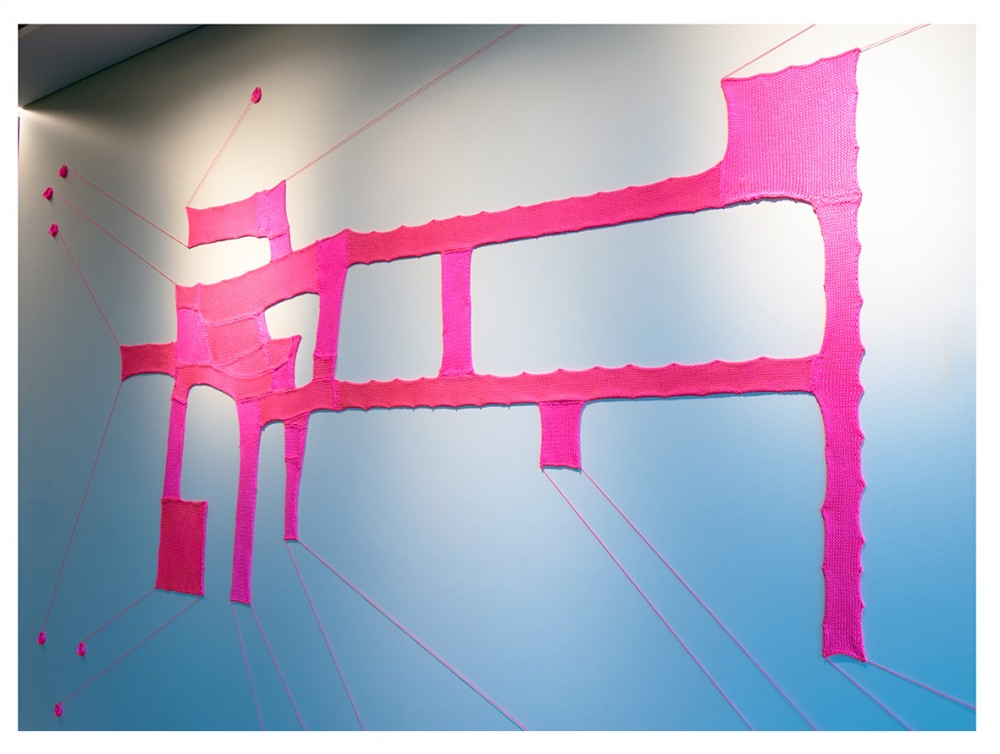 ---
art aid Gippsland Exhibition and Auction
Gippsland Art Gallery, Sale
15.02 - 15.03.2020
Gippsland Art Gallery has organised an Exhibition and Auction to support the fire relief effort. A selection of artworks will be displayed at the Gallery from 15 February to 15 March culminating in an auction on the final day, Sunday 15 March.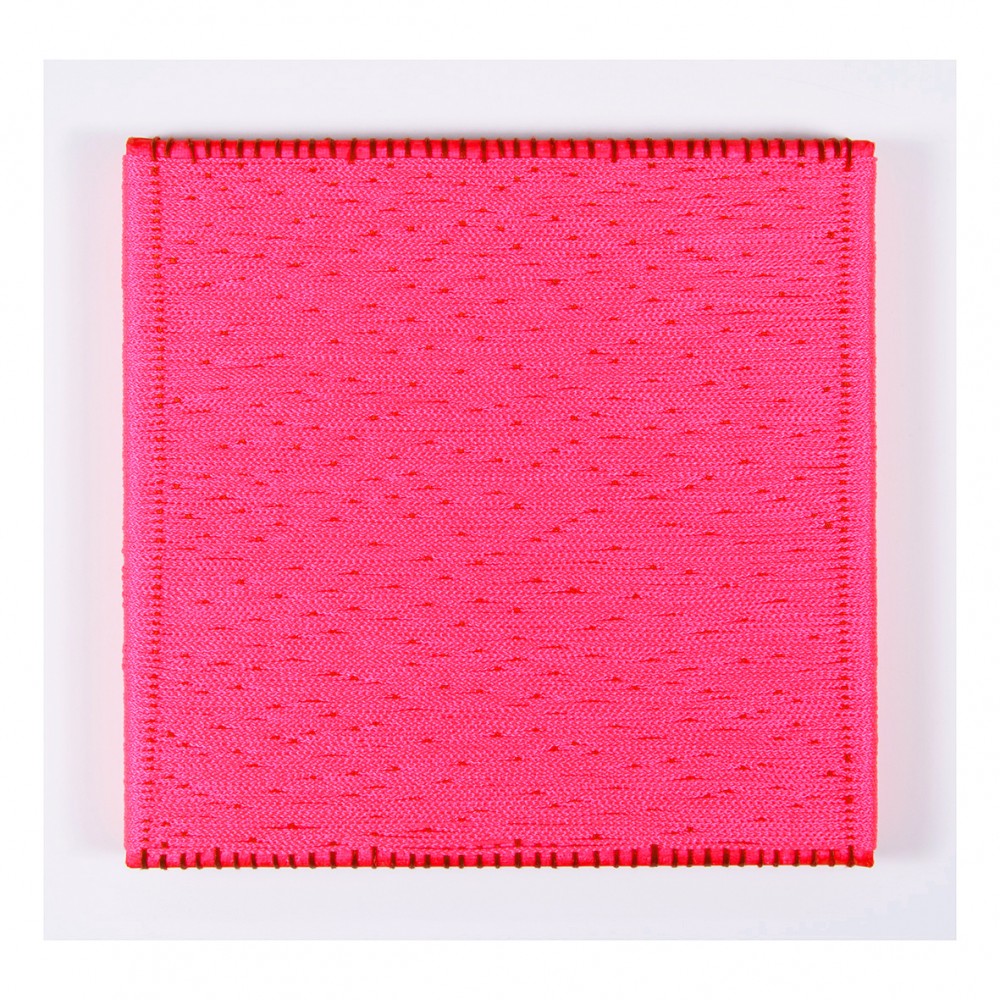 ---
shadowform 2020 commission
Saint Francis Place, Melbourne
15.01 - 29.02.2020
New work from my shadowform project which began in 2003, commissioned for Saint Francis Place, 63 Smith St, Fitzroy Melbourne.
The installation shadowform relates to my ongoing investigations into the process of mapping and attempting to connect disparate data to create multi-layered site-specific artworks that provoke a new reading and experience. Created in steel, and bound in Japanese cord, the work is installed on mirror- it interacts with the architecture of the space and the urban environment of the neighbourhood from the street.
The installation will evolve over 6 weeks, with 3 different iterations, installed 15.01, 29.01 and 12.02 and can be viewed 24/7.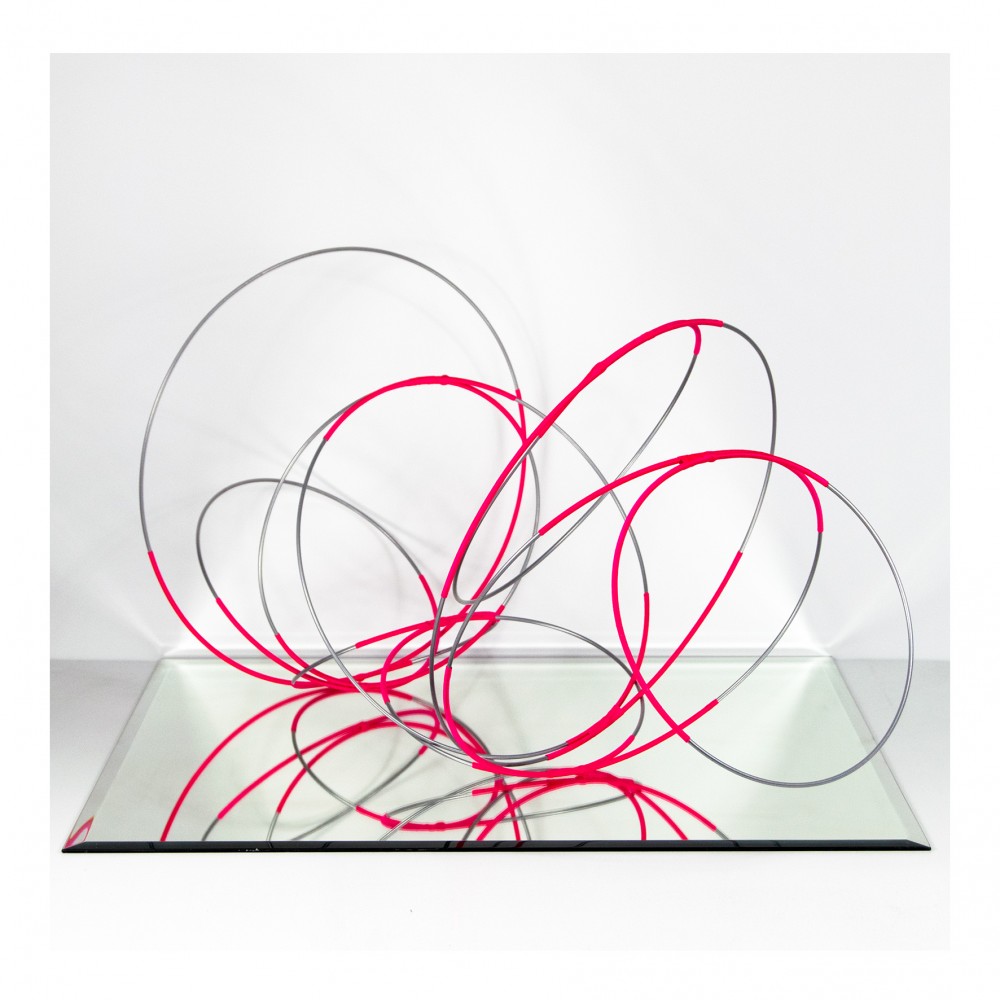 ---
Sunshine Coast Art Prize
Caloundra Regional Gallery
24.07 - 15.09.2019
Finalists: Sally Anderson, Monika Behrens, Karen Black, Jeremy Blincoe, Stephen Bush, Jandamarra Cadd, Ray Coffey, Sam Cranstoun, Gerwyn Davies, Fernando do Campo, James Dodd, Chris Dolman, Stefan Dunlop, Genevieve Felix Reynolds, Diena Georgetti, Helga Groves, Kim Guthrie, Neil Haddon, Rochelle Haley, dana harris, Naomi Hobson, Natalya Hughes, Mason Kimber, Netta Loogatha, Fiona Lowry, Sam Martin, Abbey McCulloch, Laith McGregor, Rob McHaffie, Roland Nancarrow, Catherine O'Donnell, Aaron Perkins, Samuel Scoufos, Sandra Selig, Peter Sharp, Marian Tubbs, Mark Tweedle, Verge Collective with Marian Drew, Deborah Walker, Amber Wallis.
---
Small Forms: Small Sculpture from the Collection
Wangaratta Art Gallery
20.07 - 25.08.2019
My work 12 apostles is included in this rare chance to see small sculptures from the Wangaratta Art Gallery Collection. Forming part of the Gallery's Collection Policy, the gallery has collected small works over many years. This exhibition highlights some of these works many of which have not been shown in a number of years. 12 apostleswill be exhibited with works by Hans Knorr and Treahna Hamm showcasing the diverse and expanding collection.
---
Herbaceous Borders
Blockprojects, Melbourne
18.07 - 11.08.2018
Co-curated by Kate Mizrahi
Artists: Michelle Hamer, dana harris, Pei Pei He, Sarah Tomasetti, Emma van Leest
---
National Works on Paper
Mornington Peninsula Regional Gallery
20.07 - 09.09.2018
Artists: Raymond Arnold, Peter Atkins, Alec Baker, Martin Bell, Ray Besserdin, Solomon Booth, David Bosun, Godwin Bradbeer, Kate Briscoe, Jane Brown, Jon Campbell, Susanna Castleden, Danica Chappell, Hua Cun Chen, Sam Cranstoun, Lesley Duxbury, Robert Fielding, David Frazer, Ian Friend, dana harris, Katherine Hattam, Pei Pei He, Kendal Heyes, Mark Hislop, Deanna Hitti, Anna Hoyle, Natalya Hughes, Alana Hunt, Locust Jones, Jennifer Joseph, Noŋgirrŋa Marawili , Brian Martin, Georgie Mattingley, Mish Meijers, Viv Miller, Helen Mueller, John Nixon, Open Spatial Workshop, Elena Papanikolakis, Louise Paramor, Hubert Pareroultja , Jemima Parker, Riley Payne, Dan Price, Lisa Reid, Louise Rippert, Cameron Robbins, Brian Robinson, Elissa Sampson, Emily Sandrussi, Geoff Sargeant, Jo Scicluna, Liz Shreeve, William Smeets, Kylie Stillman, TextaQueen, James Tylor and Laura Wills, Trent Walter, Rosie Weiss, Mumu Mike Williams, Puna Yanima, Yvonne Zago, Tianli Zu
---
Threads
GAGProjects/Greenaway Art Gallery, Adelaide
16.05 - 01.07.2018
Curated by Paul Greenaway
Artists: Bridget Currie, dana harris, Louise Haselton, Matt Huppatz
In the context of this exhibition, threads are not fine clothes, helical ridges on the outside of a screw, a reference to the 1984 British TV drama and certainly not the premier magazine for sewing enthusiasts.
These four artists share characteristics throughout their works, which brings them together beyond their visual disparity, through a finely-honed sensibility in finding the spiritual significance in elements commonly ignored by the majority. Their impetus is not tied to any direct message be it political or otherwise but uncovering the sensible object through their individual aesthetic. These shared sensibilities allow them, through simple arrangement of materials, to create a completely new dimension, enabling these objects to re-appropriate their real life in order to construct a new sensorial world of connections. Paul Greenaway
---
Couplings
Dominik Mersch Gallery, Sydney
10.04 - 12.05.2018
Curated by Brad Buckley and Helen Hyatt Johnson
Artists: Adrienne Gaha and Tim Maguire; Consuelo Cavaniglia and Brendan van Hek; Francesca Heinz and Sach Catts; Helga Groves and Matthew Johnson; Hilarie Mais and Bill Wright; Jackie Dunn and Michael Goldberg; Jane Polkinghorne and Sarah Newall; Josie Cavallaro and Somchai Charoen; Lottie Consalvo and James Drinkwater; Nike Savvas and Stephen Little; Peter Atkins and dana harris; Rachel Sherwood and Teo Treloar; Simon Yates and Vanessa Berry; Suzy Faiz and Matthys Gerber; Tiffany Shafran and Kyle Jenkins; Tracey Clement and Peter Burgess; Vikki Browne and Locust Jones
---
Intercontinental Line 2
Abstract Project Gallery, Paris
09.04 - 21.04.2018
Curated by Bogumila Strojna and Barbara Halnan
Artists: Susan Andrews (AUS) Nicole Ellis (AUS) Catherine Gaillard (FRANCE) Barbara Halnan (AUS) dana harris (AUS) Victor Hulik (SLOVENIA) Emma Langridge (AUS) Eva Myrdal Linstow (DENMARK) Gyula Sagi (HUNGRY) Adia Wahid (UK)
---
Solo Exhibition
ll & lll
Heide Museum of Art, Melbourne
20.03 - 17.06.2018
---
Summer Show : Noel Counihan Commemorative Art Award
Counihan Gallery, Melbourne
09.11 – 09.12.2017
Artists: Ajanta Anthigngna Marakkala, Fayez Assaf, Paul Batt, Margaret Bishop, Wendy Black, Robyn Blaikie, Heinz Boeck, Supina Bytol, I-Yen Chen, Aaron Claringbold, Kate Davis & Hannan Jones, Julian Di Martino, Meyet Falduto, Nadia Faragaab, Liss Fenwick | Patrick & Lesley Francis, Flora Georgiou, Marcela Alejandra Gomez-Escudero, Paul Handley, Richard Harding, dana harris, Sarah Heyward, Amaya Iturri, Catherine Johnstone, Melanie Lazarow, Penelope Le Petit, Carmel Louise, Janelle Low, Priscilla Manthey, Jordan Marani, David McCall, Kerrie O'Keefe, Valentina Palonen, Andrew Potter, Vladimir Rachko, Benjamin Sheppard, Josh Simpson, Fern Smith, Fleur Summers, Frances Tapueluelu, Ben Taranto, Jean Taylor, Mick Turner, Nicola Vance, Leanne Waterhouse, Charlotte Watson, Claire Anna Watson, Bryce Wilson, Mark Wingrave, Jude Worters
---
Another Look : Contemporary Artists and the Collection Commission Project
Town Hall Gallery, Hawthorn
28.10 - 20.12.2017
Artists: dana harris, Siri Hayes, Vivian Cooper Smith, Tai Snaith, Kylie Stillman
---
Solo Exhibition
survey window project commission
Bundoora Homestead Art Centre, Melbourne
09.08 - 22.10.2017
---
2017 Wangaratta Contemporary Textile Award
Wangaratta Art Gallery
03.06 - 06.08.2017
Artists: Soraya Abidin, Margaret Ainscow, Vicki Ames, Christine Appleby, Isabel Avendano Hazbun, Gillian Bencke, Ruby Berry, Fleur Brett, Anna Brown, Sky Carter, Ying Chew, Alana Clifton-Cunningham, Cresside Collette, Dianne Firth, Hannah Gartside, Charlotte Haywood, Judy Hooworth, Linda Judge, Anita Larkin, Kirsty Macafee, Clare Mccracken, Vicki Mason, Mohsen Meysami, Catherine O'Leary, John Parkes, Emma Peters, Jennifer Robertson, Alison Robinson, Barbara Rogers, Margarita Sampson, Ema Shin, Joy Smith, Jane Theau, Kasia Tons, Mary-Jane Walker, Carmel Wallace, Sera Waters, Terry Williams
---
Bayside Acquisitive Art Prize 2017
Bayside Arts & Cultural Centre, Brighton Town Hall
06.05 - 18.06.2017
Artists: Annabelle Aronica, Lynne Boyd, Claire Bridge, Andrew Browne, Matt Butterworth, Isobel Clement, Jesse Dayan, Ann Debono, Joni Dennis, Mark Dober, James Dodd, Nanou Dupuis, Carla Edgerton, Phil Edwards, Robert Fenton, Brett Ferry, Louise Forthun & Stewart Russell, Malcolm Gartside, Jennifer Goodman, Julia Gorman, dana harris, Linda Judge, Gina Kalabishis, Robert Kelly, Robyn Kinsela, Harley Manifold, Jarrad Martyn, Yuria Okamura, Steven Rendall, Jordan Richardson, Julian Aubrey Smith, Mignon Steele, Danielle Tooley, Datsun Tran, Michael Vale, Deborah Walker, Victoria Watts, Alice Wormald, and Daniel Worth.
---
Solo Exhibition
memento
CRAFT Victoria
18.03 - 15.04.2017
Opening celebration on Saturday 18.03 from 4 - 6pm, commenced with a traditional Welcome to Country by Aunty Joy Murphy AO, Senior Wurundjeri elder of the Kulin alliance.
The works exhibited in the memento exhibition all examine the concepts of space and memory.
---
Faux Studio
c3 Contemporary Artspace
01.12 – 11.12.2016
Curated by Ace Wagstaff
The conceptual approach to the show centres around direct access to the private world of the studio space and the classic financial model of the artist studio sale – a method employed by entrepreneurial artists the world over. This exhibition is curated by artists for artists and presents the DIY spirit that this community is known for. A selection of faux studios will be set up within c3 with various conceptual approaches towards artistic practice, offering the public a unique insight into the creative process. Faux Studio celebrates the active sustainable ethos of our artistic community and investigates issues of value, commodification, labour and funding shortfalls that many artists face throughout their careers.
---
Basil Sellers Art Prize 5
The Ian Potter Museum of Art
19.07 - 6.11.2016
wide world of sport
3m x 3m in 5 parts
cotton, powdercoated steel and MDF
link - to work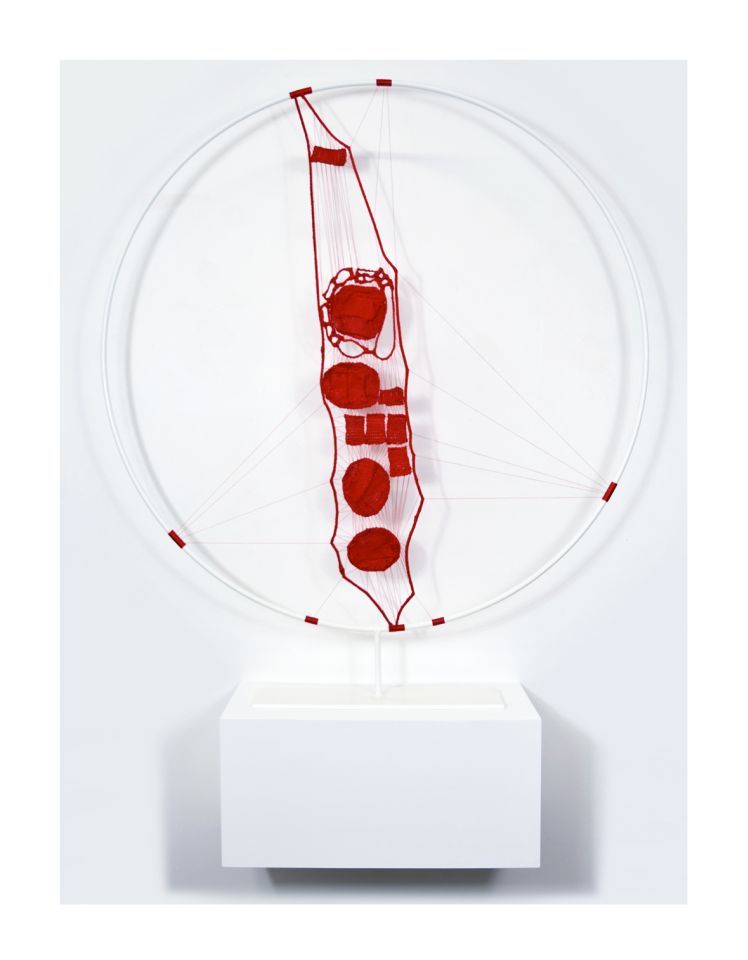 ---
Collected II
Wangaratta Art Gallery
19.03 - 29.05.2016
Artists: Stephen Anderson, David Aspden, Robert Baines, Judy Cassab, Andrew Christofides, Gabriel Curtin, Jo Davenport, dana harris, Robert Hirschmann, Martin King, Rita Lazauskas, Anita Laurence, Dani Marti, Peter O'Dwyer, Louise Saxton, Glenn Sloggett, Remi Stewart, Kensuke Todo, Aida Tomescu, Savanhdary Vongpoothorn, Rose Wedler, Kim Westcott, Meredith Woolnough, Liz Williamson, Paul Yore, Louiseann Zahra-King
---
Fabrik: minimal and conceptual approaches to textiles
The Ian Potter Museum of Art, Margaret Lawrence Gallery at the VCA and Sutton Project Space, Melbourne
01.03- 22.05 2016
Conceived by Sarah crowEST curated by Jane O'Neill
Artists: John Barbour, Clementine Barnes, Sarah crowEST, Christine Dean, ADS Donaldson, Mikala Dwyer, David Egan, Andreas Exner, Dana Harris, Louise Haselton, Mark McDean, Elizabeth Newman, Michelle Nikou, Rose Nolan, Virginia Overell, Janet Passehl, Elizabeth Pulie, Stuart Ringholt, Robert Rooney, Kate Sylvester, Lyndal Walker, Jenny Watson, Heimo Zobernig
Fabrik: conceptual, minimal and performative approaches to textiles is a multi-venue exhibition held at the University of Melbourne's Ian Potter Museum of Art and Margaret Lawrence Gallery at the VCA, and Sutton Project Space. The project forms part of the Virgin Australia Melbourne Fashion Festival Cultural Program.
Fabrik provides a platform for the cross-pollination of ideas across the fields of fashion, textiles and contemporary art. Featuring a selection of new and existing works, the exhibition includes emerging, mid-career and established artists from Australia and overseas. The word fabrik translates from German as 'workshop', and refers to the tendency of these artists to address both materials and methods of production. Whether scrunched, snipped, draped, ironed, ripped or threaded, the artworks reveal a strong emphasis on the artists' physical engagement with textiles. By extension, the exhibition prompts consideration of our own daily interactions with fabric.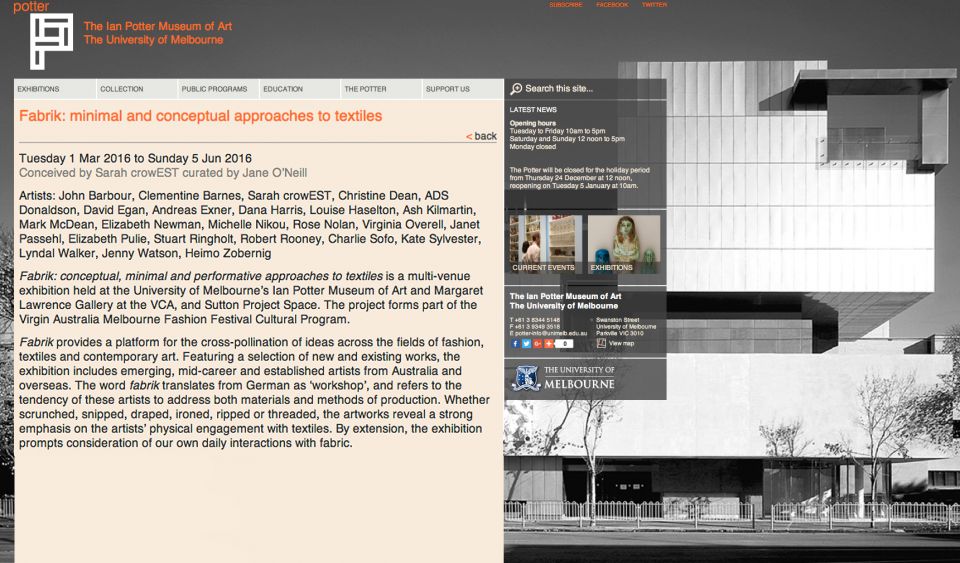 ---
Shortlisted for the Basil Sellers Art Prize 5
The Ian Potter Museum of Art - The University of Melbourne
19.07 - 6.11.2016
Dana Harris works predominantly in textiles, drawing, sculpture and installation, making work based on her rigorous investigation of particular environments. Her proposed work for the Basil Sellers Art Prize 5 will explore a part of Melbourne's densely populated inner-city, which is transformed continually throughout the year to stage a variety of sports and forms of recreation.
Shortlisted artists for the 2016 prize and exhibition are Abdul Abdullah, Jane Brown, Kate Daw and Stewart Russell, Shaun Gladwell, Rew Hanks, Dana Harris, Grant Hobson, Richard Lewer, William Mackinnon, Laith McGregor, Fiona McMonagle, Eamon O'Toole, Trent Parke and Narelle Autio, David Ray, and Vipoo Srivilasa. Shortlisted artists have eight months to complete their work for the $100,000 Basil Sellers Art Prize and exhibition, which opens at the Ian Potter Museum of Art, the University of Melbourne, in July 2016.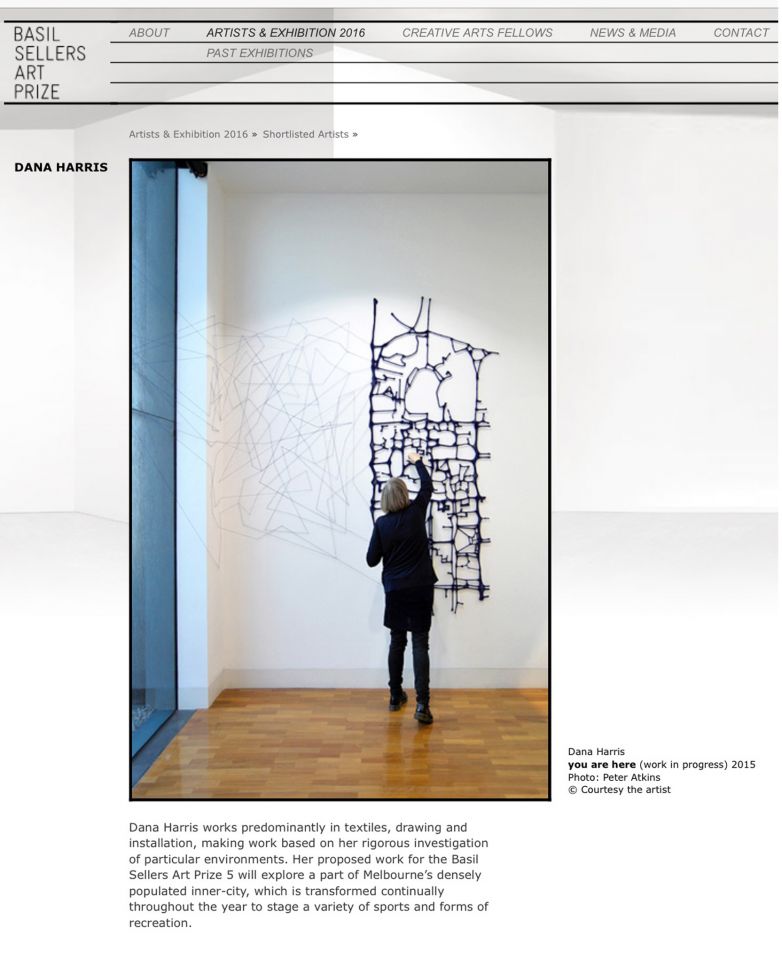 ---
Proto 1 from 2009 has been included in the collection highlights catalogue of the new Murray Art Museum Albury. Shortlisted in the 2009 Albury Art Prize, it was highly commended, and bought for the Museums collection by the judge of the prize, Dr Gene Sherman.
MAMA
Murray Art Museum Albury
Opens 2.10.2015
LINK to see more work from this series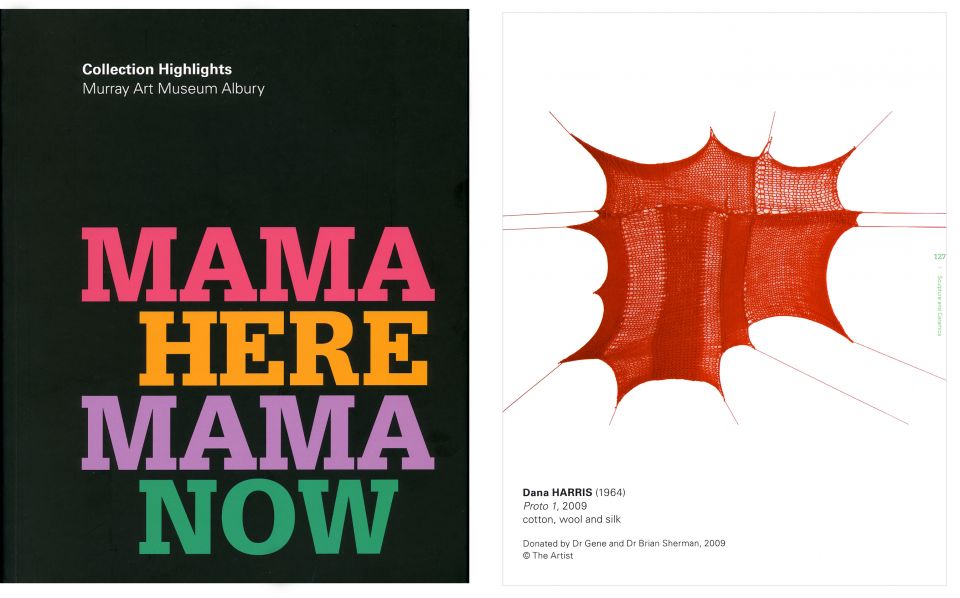 ---
2015 Wangaratta Contemporary Textile Award
Wangaratta Art Gallery
13.06- 26.07.2015
The Wangaratta Contemporary Textile Award is a biennial acquisitive award & exhibition celebrating the diversity and strength of Australia's textile artistry.
remembering Wangaratta, mirror image utilizes the Japanese Sashiko technique from the 18thC to create an embroidered drawing of Wangaratta city based on a vintage 1975 street map. Originally used to repair fabric, traditional Sashiko uses a white thread on Indigo dyed cotton, small stitches make up of a series of repetitive lines.In this work, as a gesture to the original craft, I have used white thread but chose a remnant of hand dyed Japanese silk which was previously an Akira Isogawa strap dress from 2003. Each warp and weft is testimony to its previous life as a dress, including a diagonal seam which is a signature of his designs, the embroidery depicts a mirror-image of Wangarattas streetscape of 1975, as a reminder of the process of looking back to access memories.
remembering Wangaratta, mirror image
sashiko embroidery on silk, stretched and framed
85 x 105 x 4cm
private collection, Melbourne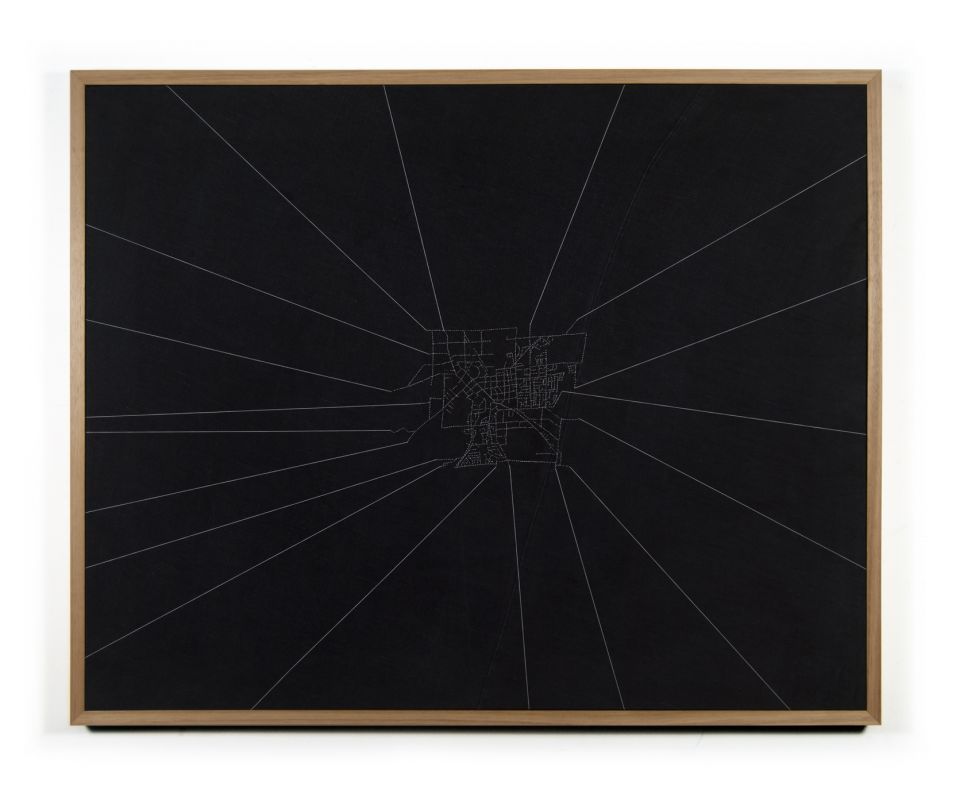 ---
More love hours- Contemporary artists and craft
The Ian Potter Museum of Art - The University of Melbourne
22nd July to 11th October 2015
Curator: Suzette Wearne
More love hours brings together selected works by thirteen contemporary Australian artists who use craft media, techniques or processes in their practice. While the works reflect significant stylistic and thematic diversity, the exhibition demonstrates how artists use 'traditional' forms of creativity—ceramics, embroidery, weaving, paper-craft—to express contemporary values and complex ideologies.
More love hours than can ever be repaid is the title of a 1987 work by the late influential American artist Mike Kelley. Subversive, self-referential yet playful, this seminal work channelled the artist's career-long interrogation of gender stereotypes, the art market and the division between categories of creativity. Some decades on, More love hours continues Kelley's dialogue during a time in which the difference between 'craft' and 'fine art' is less clear than ever, and demonstrates the creative freedom which this expanding threshold allows.
Includes artists Stephen Bird, Fiona Cabassi, Dana Harris, Newell Harry, Rhys Lee, Raquel Ormella, Julia Robinson, Vipoo Srivilasa, Hiromi Tango, Anton Veenstra, and Yarrenyty Arltere artists Dulcie Sharpe, Louise Robertson and Rhonda Sharpe.
LINK to see more images from my installation you are here and curator Suzette Wearnes essay and notes on my practice.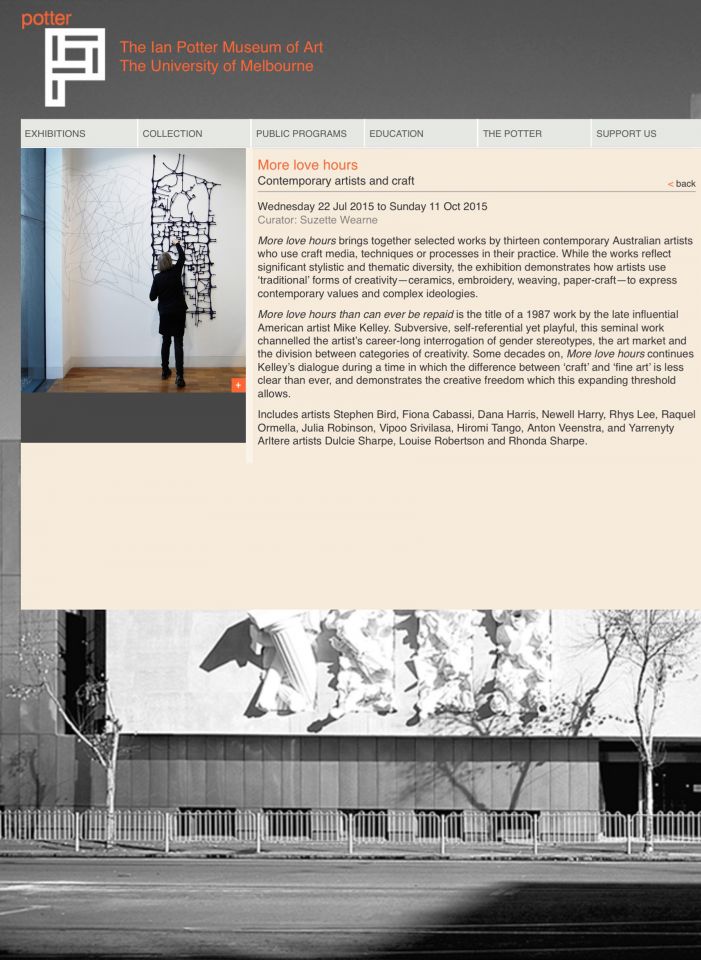 ---
Curated and organised by Yarra City Council, my installation work commute was exhibited at Akira, 153 Gertrude St, Fitzroy as part of
Art This Way: Visual Art Weekend
Fitzroy and Collingwood, Melbourne
15th - 17th August 2014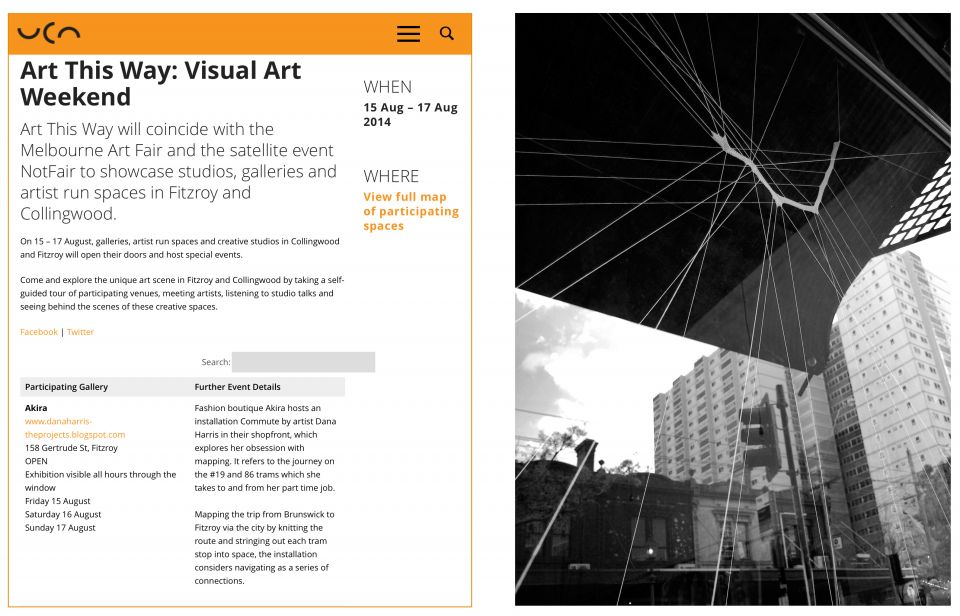 ---
Solo Exhibition
wangaratta project
Wangaratta Art Gallery
21st June - 20 July 2014
This exhibition of new work was commissioned by Di Mangan, the Director of Wangaratta Art Gallery and is based on the landscape and environment of Wangaratta city and the surrounding region. Opened by Jason Smith, the Director of Heide Museum of Modern Art, the exhibition consisted of 7 works, which included drawings, sculptures, textile works and a diverse range of media, including paper, wood, thread and canvas. Two works were purchased by the Gallery for their Collection: 12 apostles and watertable.
Link to works wangaratta project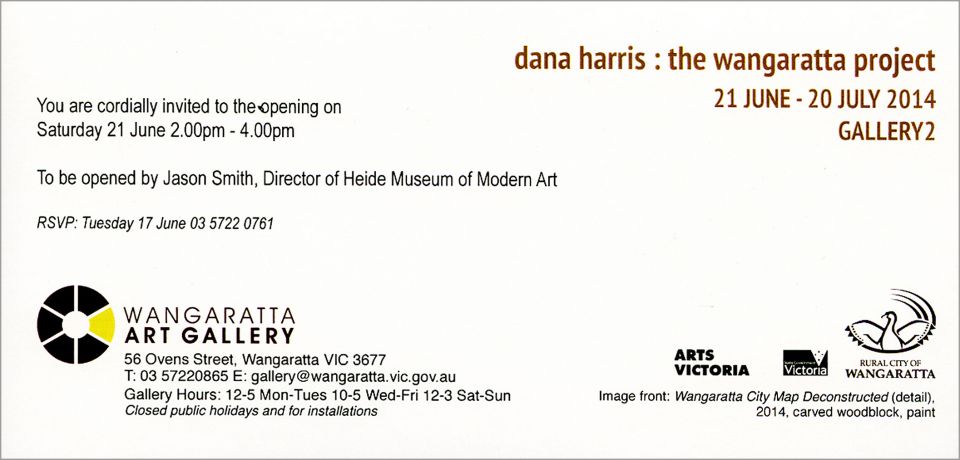 ---
tokyo project
Youkobo Artspace Residency, Tokyo
1st January - 31 January 2014
During the month of January 2014, I attended a residency at Youkobo Artspace in Tokyo. Whilst there, I created and exhibited a body of 4 works which focused on mapping the site from a macro to a micro scale. tokyo subway stringwork refers to a site specific installation which mapped each railway station and line in the citys rail network, spanning across the wall, out into the space. boundary, a wallwork made from porcelain, depicted the boundary of adjoining neighbourhoods: suginami, shibuya, setagaya, nerima, and nakano. A delicate line drawing: nishi ogikubo marked out the neighbourhood where the studio was based, and the site specific drawing youkobo floorwork traced all the marks on the studio floor.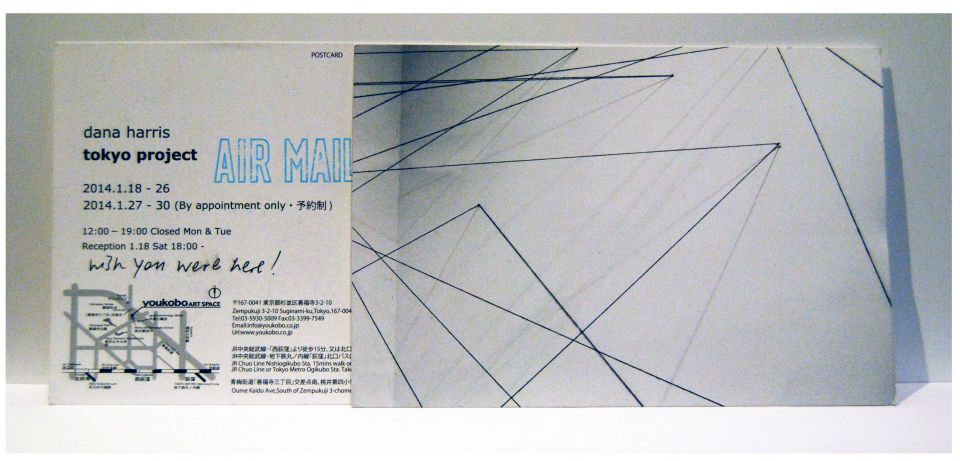 ---
Solo Exhibition
foundation: a proposed intervention
Bus Projects at Donkey Wheel House, Melbourne
21st June - 9th July 2011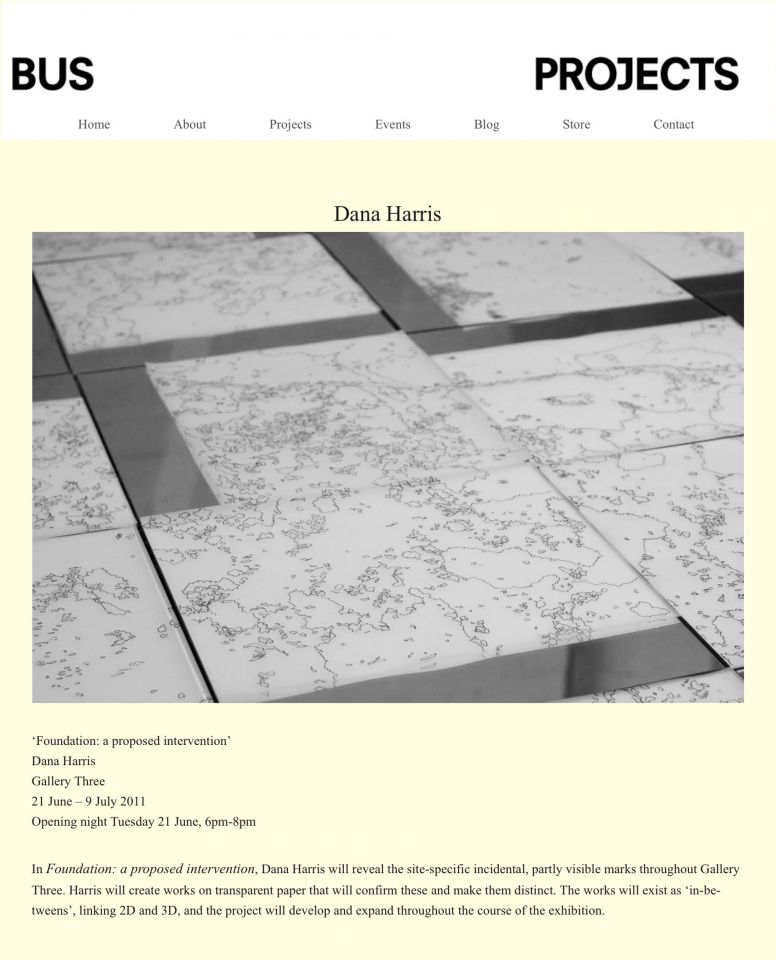 ---
Awarded the 2009 Yering Sculpture Award
Yering Station Sculpture Exhibition and Awards
Yering Station, Yarra Glen
25th October - 5th December 2009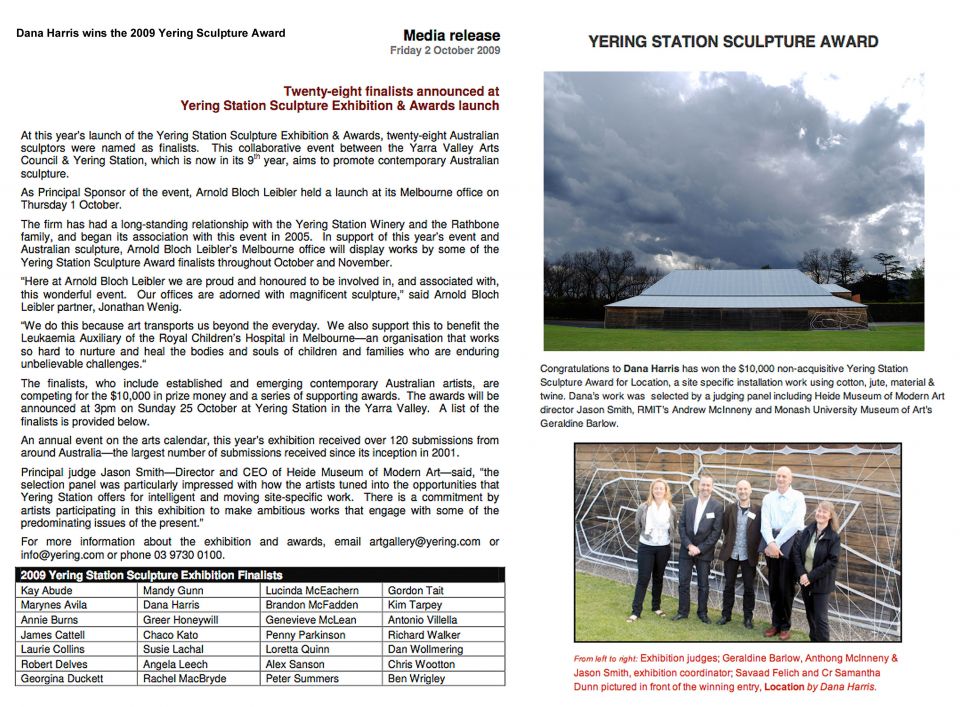 ---
Solo Exhibition
home
Sofitel Hotel, Melbourne
29 February - 27 April 2008
Curated and managed by Global Art Projects, I exhibited a series of work from the home project at the Sofitel Hotel, Melbourne.