projects
Fabrik: minimal and conceptual approaches to textiles
ebisu 838 from the loomwork project 2003
cotton thread woven on wood
225 x 270 mm
Sutton Project Space, Melbourne
18.02.2016 - 12.03.2016
silk roads from the world wide maps project 2015

pure silk thread hand woven on loom, cotton, steel pins
dimensions variable
The Ian Potter Museum of Art, University of Melbourne
01.03.2016 - 22.05.2016
Fabrik: minimal and conceptual approaches to textiles

The Ian Potter Museum of Art - The University of Melbourne, Margaret Lawrence Gallery at the VCA and Sutton Project Space, Melbourne
18.02.2016 - 05.06.2016
Exhibition conceived by Sarah crowEST curated by Jane O'Neill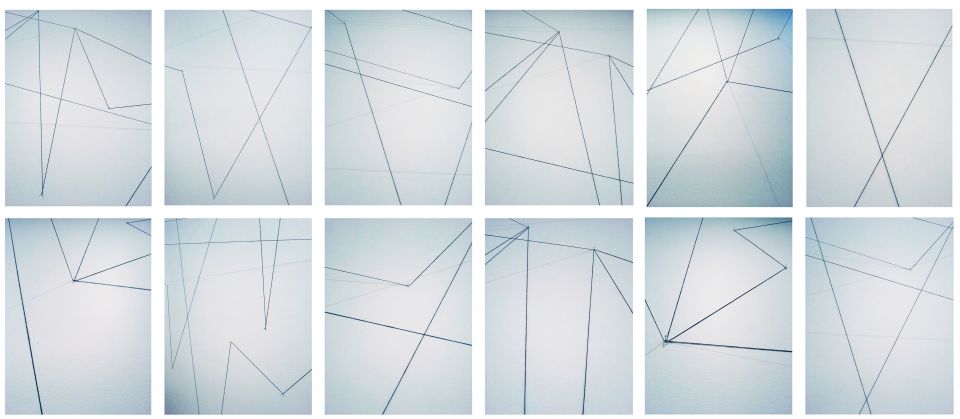 Artists: John Barbour, Clementine Barnes, Sarah crowEST, Christine Dean, ADS Donaldson, David Egan, Andreas Exner, Dana Harris, Louise Haselton, Ash Kilmartin, Mark McDean, Elizabeth Newman, Michelle Nikou, Rose Nolan, Virginia Overell, Janet Passehl, Elizabeth Pulie, Stuart Ringholt, Robert Rooney, Kate Sylvester, Lyndal Walker, Jenny Watson, Heimo Zobernig
Fabrik: conceptual, minimal and performative approaches to textiles is a multi-venue exhibition held at the University of Melbourne's Ian Potter Museum of Art and Margaret Lawrence Gallery at the VCA, and Sutton Project Space. The project forms part of the Virgin Australia Melbourne Fashion Festival Cultural Program.
Fabrik provides a platform for the cross-pollination of ideas across the fields of fashion, textiles and contemporary art. Featuring a selection of new and existing works, the exhibition includes emerging, mid-career and established artists from Australia and overseas. The word fabrik translates from German as 'workshop', and refers to the tendency of these artists to address both materials and methods of production. Whether scrunched, snipped, draped, ironed, ripped or threaded, the artworks reveal a strong emphasis on the artists' physical engagement with textiles. By extension, the exhibition prompts consideration of our own daily interactions with fabric.
I created silk roads specifically for the Fabrik exhibition. When I was a child, my father imported silk, travelling to India, China and Japan to source textiles and develop his business- I wanted to focus on memories of the stories and fabrics from that time. After researching historical maps of the trade routes between 500 BC and 500 AD, I wove pure silk thread on a loom, tracing the movement across the landscape, attempting to show the vast scale of the routes, and the interconnectivity of cultures. When installing the work, I utilised blue cotton and steel pins to draw the coastlines of the landmass directly onto the wall. By stringing the cotton out onto the ceiling and adjoining wall, the work combined macro and micro space and a woven and finer stringline uniting installation and drawing.
'The Silk Road refers to a historical network of interlinking trade routes across the Afro-Eurasian landmass that connected East, South, and Western Asia with the Mediterranean and European world, as well as parts of North and East Africa. Extending 4,000 miles (6,500 km), the Silk Road gets its name from the lucrative Chinese silk trade along it, which began during the Han Dynasty (206 BCE – 220 CE). The central Asian sections of the trade routes were expanded around 114 BCE by the Han dynasty, largely through the missions and explorations of Zhang Qian, but earlier trade routes already existed across the continents. Trade on the Silk Road was a significant factor in the development of the civilizations of China, India, Persia, Europe and Arabia. Though silk was certainly the major trade item from China, many other goods were traded, and various technologies, religions and philosophies, as well as the bubonic plague (the "Black Death"), also traveled along the Silk Routes. The main traders during Antiquity were the Indian and Bactrian traders, then from the 5th to the 8th century CE the Sogdian traders, then afterward the Arab and Persian traders.' Notes from University of Maryland
preparing to install silk roads at The Ian Potter Museum of Art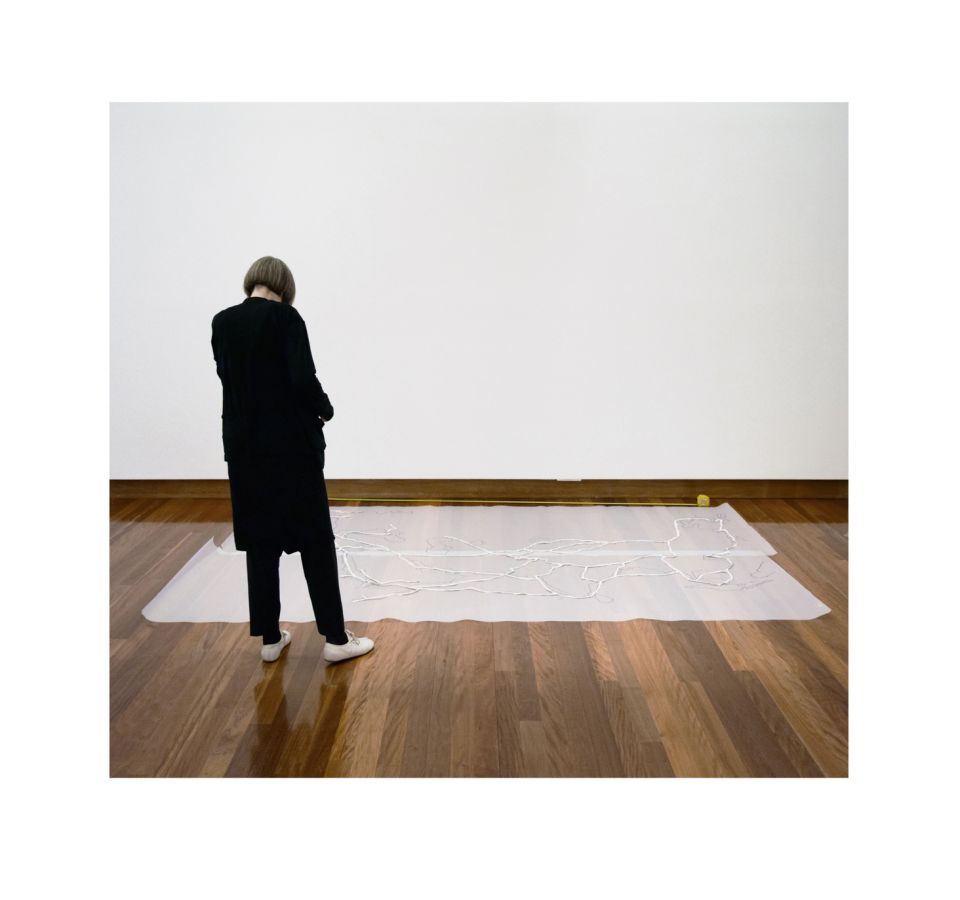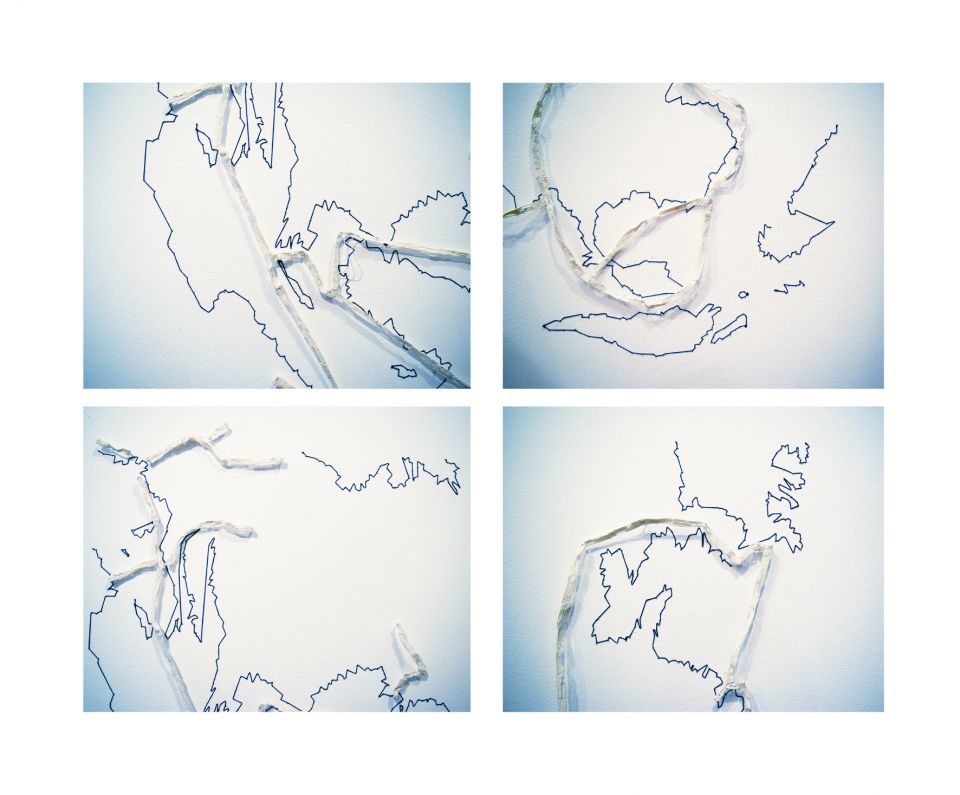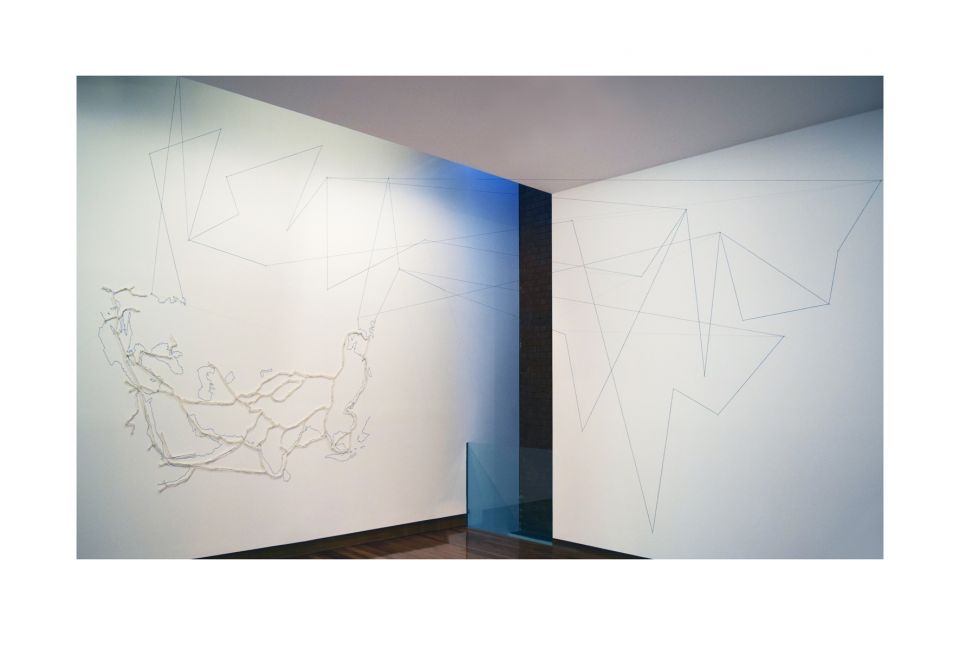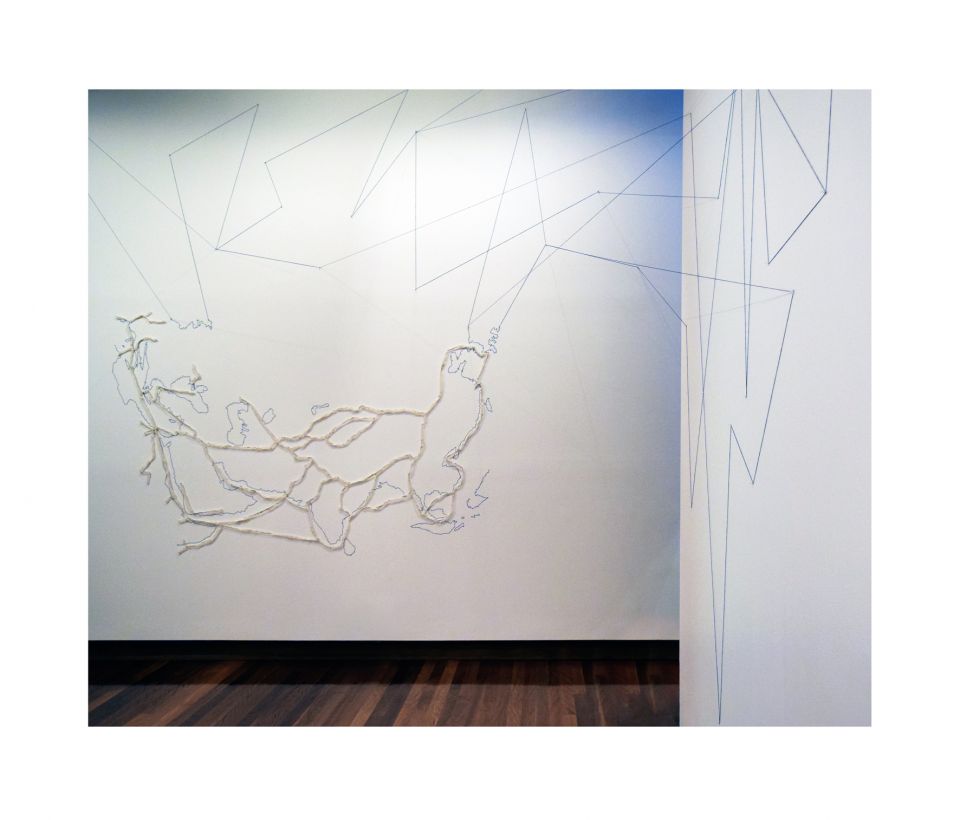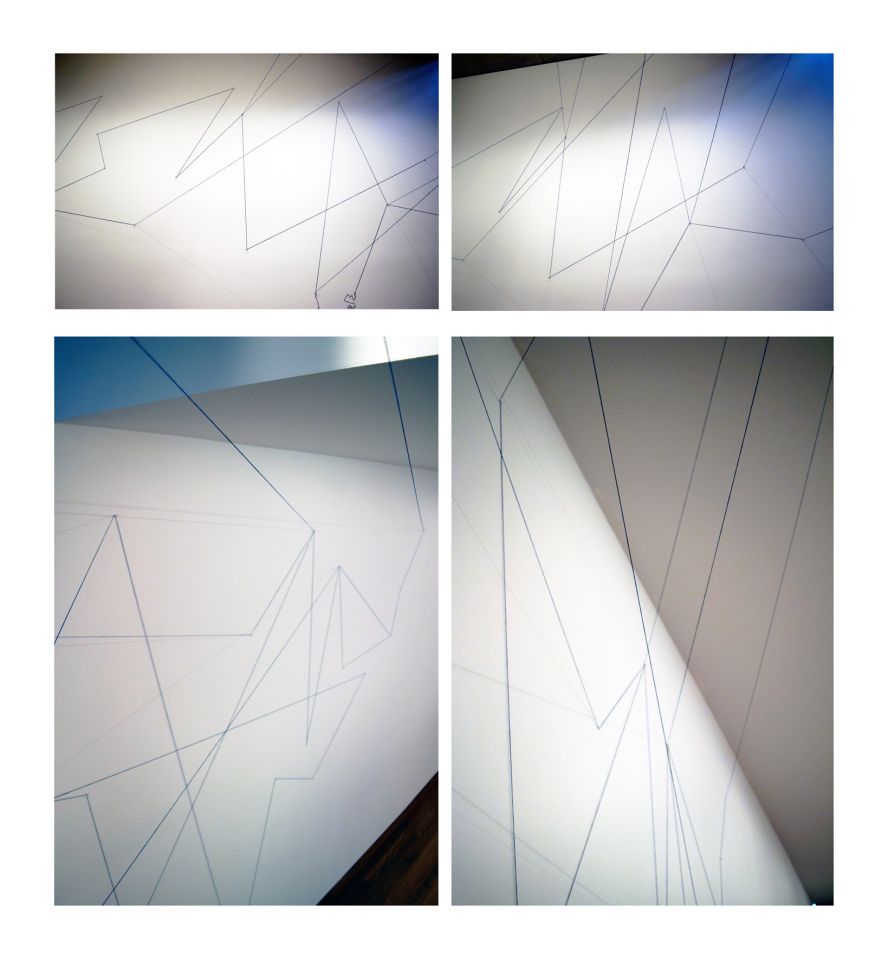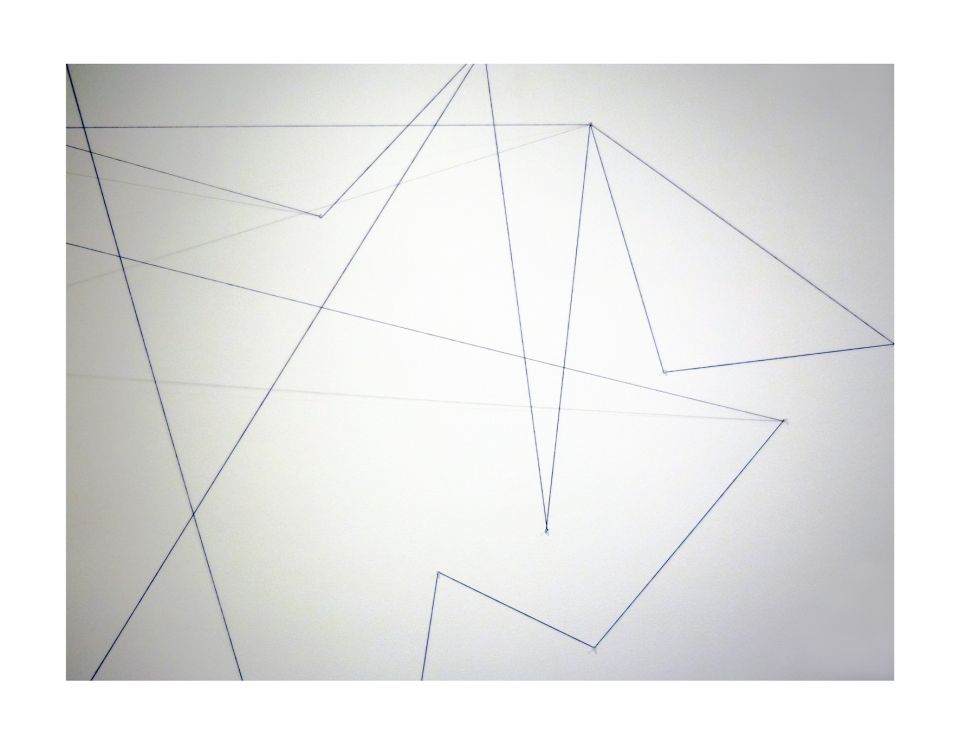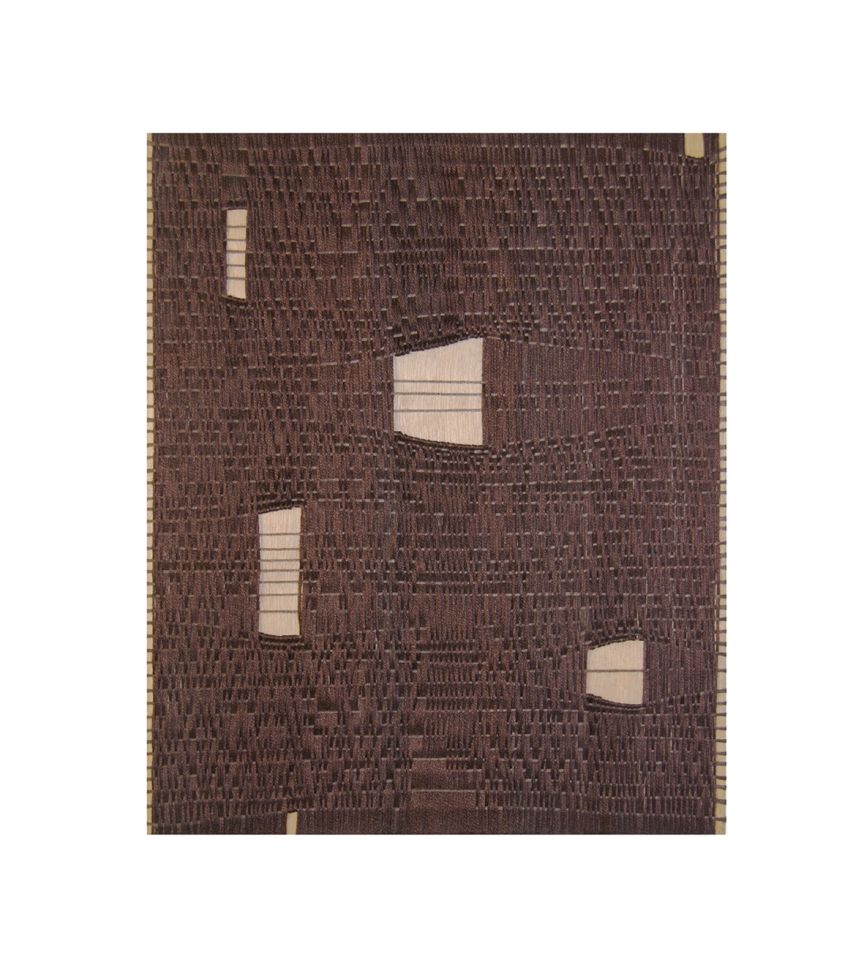 ebisu 838 from the loomwork series 2003

cotton thread woven on wood
225 x 275mm
exhibited at Sutton Project Space
18.02.16 - 12.03.16